Ok so I didn't catch the VMA's (due to me phatening [lol] my wallet... or purse I should say... but with all the Facebook and Twitter statuses... and people texting/calling me... I really didn't need to. My favorite is how Lil' Mama got her bite size ass on stage at the end of Jay and A. Keys' set of "Empire State of Mind". Cause did you see Jay look over his shoulder like wtf... he like did a double take at her. And then A. Keys looks over at her like, "This bitch...". I was dyin' laughin' yo. Then at the very end she scoots her short ass over closer to them posing... trying to get a photo op. Where are her guardians? She's like the kid that has to be restrained when she gets all excited for somethin', cause if she's let loose... well... we all saw what happened.
Comedy right!?! So today she released this apology:
"I did not mean any disrespect towards Jay-Z or Alicia Keys," the statement reads. "I admire them and look up to them as role models. 'Empire State of Mind' had my emotions running high. In that moment I came up onstage to celebrate my two icons singing about NY."
So THEN... LMFAO (If I was trying to tell you this story in person... it would probably take me like 20 mins to tell the story cause I'd be laughing so much) last night Lil' Mamma became a topic trend or whatever you call it on Twitter [#lilmamais], and this is what Fabolous contributed to the trend....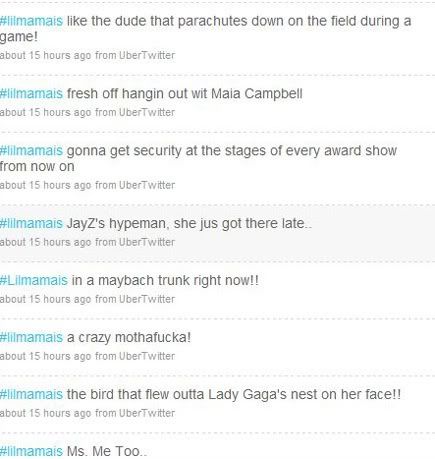 Pure comedy.